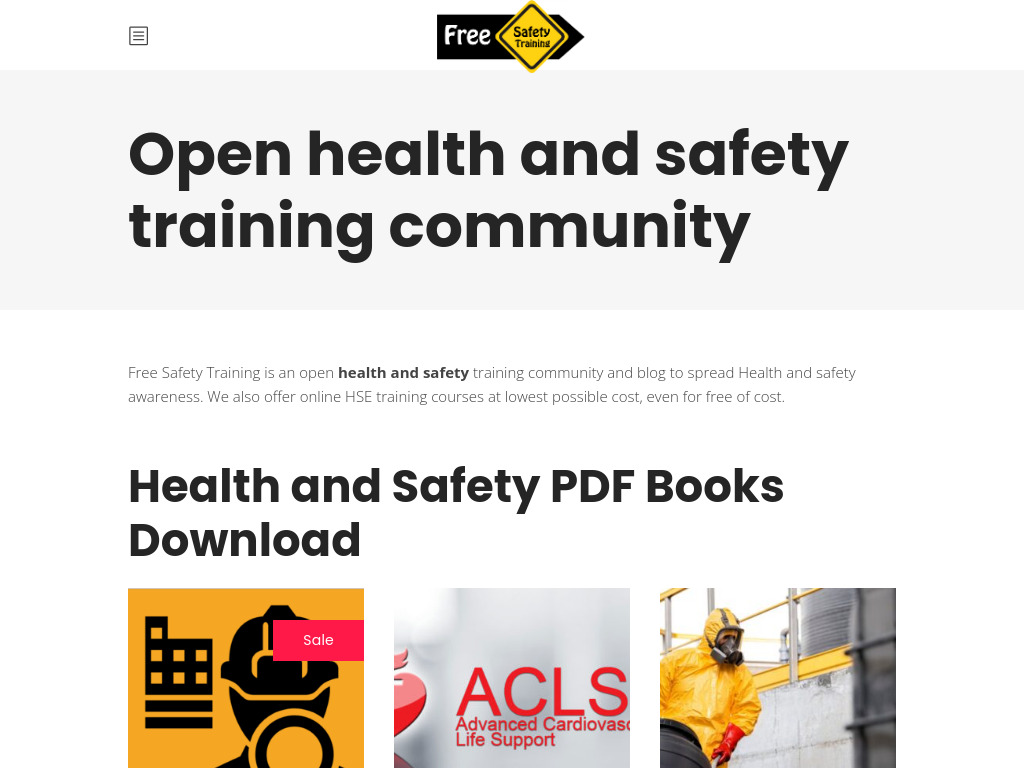 Public Auction has not yet reached the reserve price
Listing closes in 29 days, 23 hours and 34 minutes.
Financials
Gross Revenue
$105 p/mo
Net Profit
$105 p/mo
Traffic average
Avg Page views/mo
25,871
Avg Unique visitors/mo
12,069
This information is extracted by Negotiante from Google Analytics and the seller cannot edit this information.
Description of Free-safety-training.com
Free-Safety-Training.com offers world-class health and safety courses which are of high quality and are Occupational Safety and Health Administration (OSHA) compliant. OSHA is a government agency that ensures that safe and healthful working conditions of workers are enforced by providing proper training, outreach, education, and assistance.
The top-notch courses of free-safety-training.com have helped hundreds of organizations from various sectors including engineering firms, general industries, construction companies, and more. Their top-notch learning programs and training materials ensure that organizations whether big or small achieve their training goals and are able to establish an exemplary culture of health and safety. Their objective is to be the number one safety training provider worldwide.
This website for sale has been regularly updated by highly qualified team of professionals who have been certified to design the courses related to health and safety at the workplace.
Their courses are regularly updated and ensure that all the industry standards are met comprehensively. Some of their best courses include, but are not limited to:
With their online training courses, you can keep your employees up to date with the concepts of health and safety at the workplace.
Revenue
This ecommerce and blog for sale earns revenue from the sale of its books and training courses. From June 2020 up to June 2021, it has earned a total of $6,949 with monthly average sales of $534.54. See related earnings proof here.
Traffic
The site's main source of traffic originates from organic search which consist of 79.2% share from July 12-18, 2021 with top keywords which include IOSH online course, NCLEX 3,500 practice questions, working at heights training online, Nebosh training, and many more. This ecommerce site for sale receives around 100-200 visits per day with a returning visitor of 15.2%.



What's included on the sale?
1. All website files, databases, and contents.
2. Domain (https://www.free-safety-training.com/)
3. Facebook account with 2,134 follows (https://facebook.com/onlinesafetytraining/)

How to buy this website?
This website for sale can be bought here on negotiante.com. Place your highest bid for this website for sale and let's agree on the final deal.

You can transfer the site to any host that you like. We recommend Bluehost hosting which is extremely fast and with a top-rated customer service.

Financial Details of Free-safety-training.com
The site is earning hugely from its sale of educational courses which are perfect for small and big organizations. The site also earns from guest postings which are charged for $70-$100 per post.
Supporting Documents of Free-safety-training.com
Not inserted supporting documents yet
Comments (0)
To express your interest to the seller or post a public comment, you need to Log in or Sign up .
Listing details are copyright of the seller. The seller grants a permanent, irrevocable and unrestricted licence over the listing details to Negotiante.
Seller
Watch Seller
Monetization Methods
Advertising Sales

No

Product or Service Sales

Yes

Affiliate Income

No
Site Uniqueness
Content is claimed to be unique

Design is claimed to be unique